Berwick Electric Co. is pleased to welcome Stephanie Hansen to the team! Stephanie will serve as an assistant to the accounting department, where she will manage contract billing while providing support to the project managers. We invite you to get to know Stephanie a little better by following along with our conversation below.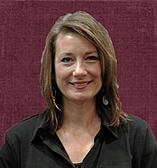 Stephanie Hansen

Berwick Electric Co. (BEC): Where are you originally from?
Stephanie Hansen (SH): I'm originally from Minnesota. My husband and I moved to Colorado Springs in October 2013. Prior to moving here, I worked for an electrical contractor in Minnesota for nine years.

BEC: What do you enjoy about your job so far?
SH: I really enjoy the challenge. There's a lot of variety. The people are very nice, and it's a fun environment. Parts of the position are very similar to my former job.

BEC: What words would you use to describe yourself?
SH: I would say strong-willed, detail-oriented, outdoorsy, independent, and fun.

BEC: What do you enjoy outside of work?
SH: I have a quarter horse named Sassy, and I love spending time with her! I like spending time outdoors. I also enjoy reading, gardening, and cooking.

Please join us in welcoming Stephanie to the BEC team!