Nature is not only beautiful, but studies show that it can also aid healing. Soon, veterans and active duty troops will be able to take in the gorgeous sights of Pikes Peak while receiving state-of-the-art medical care at the new Veterans Affairs (VA) Clinic in Colorado Springs, Colo.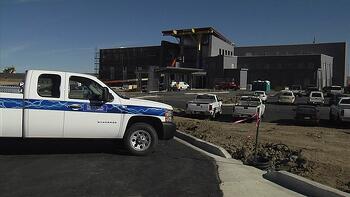 The new VA Clinic in Colorado Springs, Colo., is set to open in June.
Since its foundation work began in early 2013, the new VA Clinic has come quite a long way. With the exterior of the building complete, the final details are coming together. "Working under Jacobsen Construction on this project has been a great opportunity," Project Manager Mark Norman said. "John Travers, Dale Butterfield, Dylan Alley, and Ryan Hurless are leading the power and lighting installation." They, alongside their crews, are working diligently to finish the project.

Various jobs are wrapping up as the facility nears completion. "This project is coming together quickly, and a large portion of our electrical scope at the VA Clinic is winding down within the next month," Mark explained. "Permanent power was established in mid-February, and the trim work is currently taking place. At the start of March, mechanical commissioning is scheduled to start."

Additionally, the telecomm cabling is well under way, and the communications rooms are coming together. "Shane Gebbink's (BEC datacomm manager) men, led by Paul Brumley, are doing a great job," Mark commented.

Tobi Collins (part of Dale Butterfield's crew), is leading the fire alarm installation. This unique system includes the integration of the smoke evacuation system with the fire alarm, access control, door operators, and some mechanical fans. "Owner training is set to take place in late May, and the final turnover is planned for mid-June," Mark said.

Once the facility is turned over and opens, it will support nearly 72,000 veterans and 50,000 active-duty troops who live in El Paso County. The clinic will offer health services such as CT scans, lab work and other diagnostic services, as well as mental health care and treatment for traumatic brain injuries.

Berwick Electric Co. is proud of each individual's dedication and hard work on this project!