Does your home have an electrical panel manufactured by Federal Pacific Electric (FPE)?
After receiving reports that FPE panels failed to comply with Underwriters Laboratories, Inc. (UL) requirements, the US Consumer Product Safety Commission (CPSC) began an investigation to determine the safety of these panels. Because the investigation did not produce enough data to conclusively determine the safety of FPE panels, the CPSC closed its investigation in 2011.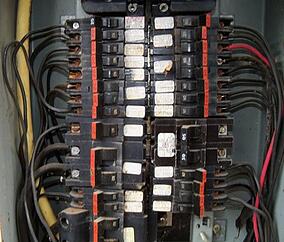 An FPE Panel
Even so, most home insurance companies will no longer insure homes with FPE panels, which can be a major problem. If this is you or somebody that you know, Berwick Electric Co. offers free estimates for the installation of a new panel, new interior or a possible retrofit.
In the meantime, the CSPC advises that consumers take the following safety precautions with all circuit breakers and fuses*:
1) Panels should be labeled indicating what outlets, lights or appliances they control.
2) Never overload any electrical circuit by connecting too many products to the circuit. Be particularly careful not to connect several products that demand high current (such as heating appliances) to a low-amperage circuit.
3) Comply with local building codes in wiring or adding electrical circuits. Make sure the wiring and devices used in the circuit are connected to a circuit breaker or fuse of the proper size.
4) Immediately disconnect any electrical product if problems develop. Have the product examined by a competent repair person.
5) Investigate to determine why a fuse blows or breaker trips; it is often a warning that the circuit is overloaded. Check the circuit for causes of overloading (for example, too many appliances plugged in, a malfunctioning product, a short circuit). When in doubt, consult a licensed electrician.
If you would like information about updating your electric panel, give us a call at 719-632-7683 or request service online. We are happy to help!
*Excerpted from the CPSC press release #83-008. To read the full CSPC press release, click here; or, to read an article about recognizing hazardous electrical panel conditions, click here.