It's easy to see why DIY, or do-it-yourself, home projects are so appealing; we all want to save time and money. And while saving time and money are certainly important, safety should be the ultimate priority. Today, Berwick Electric Co.'s safety manager Bill Tuten shares top safety pitfalls for DIY projects, and why you should consult an expert. Stay safe and read on!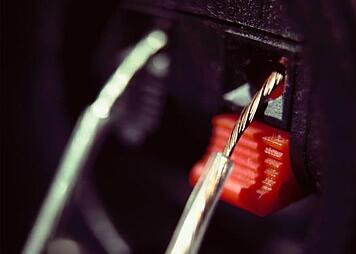 Safety should be the first priority of any electrical project.

1. Lack of knowledge. It seems that there are "how-to" resources for just about everything these days. But just because you can "Google" something or look up a quick how-to video on YouTube, that doesn't mean you are equipped to carry out the project alone. "DIY projects are very popular right now," BEC Safety Manager Bill Tuten explained. "However, even the DIY television channel stresses the importance of consulting a professional. Although you may think you are fixing the problem, you may in fact be solving the wrong problem," he added. "You want to approach any DIY project with a professional knowledge base."

2. Working on an energized circuit. The first step in any DIY electrical project is to de-energize the circuit you are working on. Again, this is where professional knowledge comes in. "Before working on an outlet or any kind of wiring, it's important to test and make sure that it is, in fact, not live," Bill explained. "It is possible to accidentally turn off the wrong breaker, so you want to double check before working. A voltage tester can be used to check whether or not an outlet is still energized. Also, the breaker box needs to be secured. Communicate to family that the breaker box should be left alone throughout the duration of the project. Lock it out if you can."

3. Working on an unsecured ladder. Many homes have vaulted ceilings or elevated outdoor light fixtures, requiring a ladder to reach and repair them. Although it seems obvious, ladder safety bears repeating. "Never stand directly on top of an A-frame ladder. Only step up to the second ladder step from the top. Warning labels are on the top and one rung below the top that says, 'NOT A STEP,'" Bill said. "You should also always make sure that a ladder is secure before using it, as well as ensure that you are using the right ladder for the task at hand. Never use an all-aluminum ladder when working with electricity. Wood or fiberglass ladders are the safest to use when working with electricity."

4. Ignoring electrical code. Although some jobs, such as finishing a basement, may seem simple, it's important to make sure the electrical work is done to code. "If you don't know the codes, or the work isn't done to code, you could end up dealing with overloaded circuits," Bill explained. "And this could lead to a fire hazard situation. Always consult with an electrician about how many amps your home has and what you can and can't do. You may need a power upgrade in order to continue the project safely."

5. Not grounding properly. If your project involves underground cabling, call a professional. "It's imperative that projects with underground cable are properly grounded. Often times, people want to run an underground cable from the source to a barn or workshop outside of their house," Bill said. "First, call a professional to do the locating. A professional should also be consulted about the proper type of cable and grounding. Most DIY-ers don't know about grounding. If grounded properly and something does go wrong, the grounding directs the electricity into the earth, so that you don't get electrocuted. Grounding is important."

We hope that these DIY safety concerns have convinced you to consult a professional before starting any home project. To consult with a qualified Colorado Springs electrician or request service, call 719-632-7683. You can also request service online here.