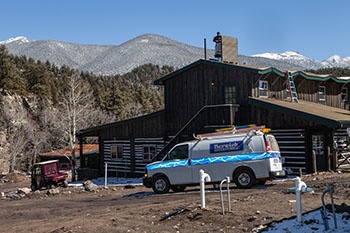 Colorado's Broadmoor Hotel and Berwick Electric have had a long-standing history of working together for almost a century. It makes perfect sense, therefore, that when the hotel was ready to start a new and very ambitious project, Berwick Electric was part of the plan.
New Project Challenges
This new project, known as the Broadmoor's Wilderness Adventure Fishing Camp, presented some major commercial electrical challenges. For starters, the project site is located on the Tarryall River and surrounded by a 120,000-acre wilderness area, making access difficult and the installation of electrical wiring a challenge.
The first step? Making sure the camp had the correct capacity electrical service feeding to the property's buildings so that the new structures – which include sleeping cabins, a maintenance building, laundry facilities and a commercial kitchen, among others – had enough power.
Another addition included an irrigation pump and stream feature pump that also required electrical power. Plus, anything that was added, needed to maintain the rustic look and feel that helped the camp "blend" with its natural surroundings.
Facing Challenges
One of the major troubles connected to the camp's project was to ensure that the electrical systems running through the old and new buildings were all up to code. Because some of the existing buildings were old and needed lots of repairs, electrical work needed to address not only new installations, but also systems that had been neglected and abandoned for years.
In addition, all the new work that needed to be done couldn't affect the original rustic look of the place – meaning our contractors had to become almost designers, working to hide electrical wires and systems under clever "natural" disguises.
Another challenge? The remote location of the camp, which meant Berwick Electric had to coordinate:
crew transportation (a particularly demanding experience during the winter months),
electrical inspections, and
the maintenance of the buildings and the utility system while the project was under construction.
The Results Speak for Themselves
After many months of hard work, the Broadmoor's Wilderness Adventure Fishing Camp is finally ready to welcome visitors. While those arriving at the camp won't be admiring the electrical work, one thing is for certain: without a proper, well-functioning system behind it, guests just couldn't enjoy the experience fully.
In fact, Berwick Electric is proud of the fact that camp guests won't even notice their work. It means everything's running smoothly and without a glitch – something the company is very proud to offer to all our customers, regardless of the project scope.
Photo credit: http://www.broadmoor.com/wilderness-experience/