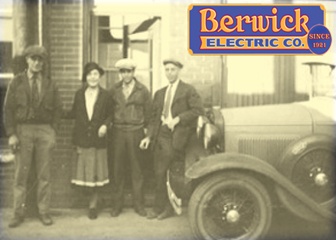 Berwick Electric has been providing outstanding residential and commercial electrical services for the Pikes Peak region since 1921. We're kind of the "hometown kids" when it comes to electrical work, and a lot of businesses and residents in the area know our name.
There's an old adage, however, that say, "Familiarity breeds contempt," and while we've certainly enjoyed a great relationship with the people of the Pikes Peak region over the years, it can be easy to think of a longtime fixture in the community as a bit quaint and maybe not up to speed. Clients that really know us, however, know that couldn't be farther from the truth!
Even though you may know our name, you may not really know our work. We thought it might be helpful to get to know your hometown commercial electrical company, so here are a few of the commercial projects we've worked on.
PFC Floyd K. Lindstrom Outpatient Clinic (C.S. VA Clinic: Construction of a new 96,000 square-foot, 1,322-occupancy clinic for U.S. military verterans with state-of-the-art medical care set against awe-inspiring views of Pikes Peak. Our work included installing a wide variety of electrical, data communications, life safety and security systems. All of the electrical activity is now supported by a 3,000 amp, 277/480-volt electrical service which required nine electrical rooms, an emergency generator for the smoke evacuation system, mechanical equipment, a sophisticated lighting control system, and other electrically-related items. It also can support the radiology suite, which contains three x-ray rooms as well as MRI, CT and mammography equipment and site lighting.
ST Francis Medical Center: This is a six story hospital that can be expanded up to 600,000 sq ft with the present plans representing 459,768 sq ft. the project has a Central Utility Plant (CUP), four floors of medical facilities, mechanical located on the 4th and the 6th floor. The hospital has three 4,000 amp 480 volt services with an emergency system consisting of 8,000 amp 480 volt paralleling switch gear, two 1,500 KW generators, future for two generators, automatic transfer switches, switchgear and distribution. It includes a 4,000 sq ft commercial kitchen, 3,800 sq ft servery and 5,000 sq ft dining room. The kitchen is fed with an 800 amp 480 volt service with five subpanels.
Seven Falls Lighing and the 1858 Restaurant: This unique project included installatioin of infrastructure piping and wiring throughout the 4,000 foot long canyon to include (100) stream side LED lights, (30) under stair mounted High Output LED fixtures to wash the main falls, (18) Underwater fixtures to light the trout pond, (10) parking lot pole lights, and assorted tree and rock formation accent lighting. Lighting control panels and override switches throughout the canyon for automatic and manual control of all fixtures. Power needs included a 12,470/480 volt utility transformer to provide power for the Eagles Nest elevator, pumps, and mechanical equipment. The 1858 Restaurant required all new power, fire alarm, specialty lighting and controls.
There is some fairly technical information in those project descriptions, and some of it may not mean that much to you. The point of all this is that Berwick has the capabilities to tackle jobs of just about any size and complexity. And while we still insist on providing "hometown" service and value, we also work diligently to stay on top of the latest innovations in the industry—something our certifications and qualifications confirm.
Our founder, J. Douglas Berwick, may have started out as a small business owner back in 1921, but as the region's needs for commercial electrical service grew, his company stayed at the forefront. No matter what your electrical needs may be, you can trust the service, knowledge, and expertise of the "hometown kids."