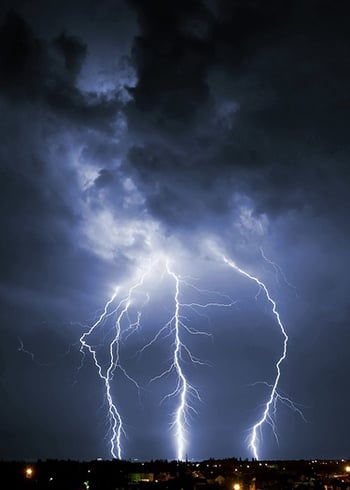 Thunderstorms with lots of lightening are a pretty common occurance here in Colorado. It's a pretty spectacular lightshow! But it's a lot more than that. According to weatherimagery.com, there are approximately 494,000 cloud-to-ground lightning strikes every year in the state.
If you own commercial property here in Colorado, there are three big reasons you need to protect your property from these far-too-frequent occurrences.
The Cost of Property Damage
Underwriters Laboratories, Inc. estimates that lightening strikes account for more than one billion dollars in structural damage each year. And Factory Mutual Insurance Company reports that between three and five percent of all commercial insurance claims come from lightening damage. Having the right protection can lower the cost of your insurance.
Employee Safety
It's bad enough if your property sustains damage from lightening. But it's terrible if a lightening strike impacts your employees. On average, lightening kills an average of 73 people across the US every year—and those are just the documented cases. On top of that, there are some 300 documented lightening-related injuries every year, and according to skyviewweather.com, undocumented injuries caused by lightning are likely much higher.
Loss of Business
Even if your business survives a lightening strike, the occurrence can wreak all kinds of havoc. A direct hit to a building, a nearby strike to a power line, or even a voltage surge originating from your utility company can cause a fire in the electrical service panel boxes or seriously damage equipment by frying insulation and sensitive microprocessor components. If you have to spend time (and money) replacing equipment, that's lost revenue you may never recover. And what about all of your data such as customer files, accounting, and intellectual property? Some of that can never be recouped.
The good news is that you can protect yourself. The American Geophysical Union reports that conventional lightning protection systems are highly effective in reducing lightning-caused fires and damage to buildings and structures.
We're experienced in helping businesses protect themselves from the dangers lightening strikes present. You can even click here to see us in action! Shoot us a note at mail@berwickelectric.com or call us at 719-632-7683 for more information about how you can protect your property, your employees, and your business from the damage that lightening can do.
We understand the importance of keeping up with the latest education, certification, and qualifications in the industry. Since 1921 we've employed the most qualified people in the business to manage important projects in and around Colorado Springs—from turn of the century carriage houses, to high tech clean rooms and fiber optic cabling. You've heard that "knowledge is power." At Berwick Electric, we take that to heart!