Colorado Springs Community Involvement
Philanthropy and Sponsorships
Berwick Electric Co. (BEC) does more than provide great electrical service. As an integral part of the Pikes Peak community, BEC actively sets a positive example of corporate social responsibility. By supporting various non-profit organizations and local causes, BEC is proud to help make Colorado a better place to live and visit.

BEC accepts the Outstanding
Corporate Philanthropic Program award.
BEC won the 2012 Outstanding Corporate Philanthropic Program Award from Partners in Philanthropy. Special Kids Special Families nominated BEC for the assistance provided with their relocation and the renovation of their North Avenue office facility. "Doug Berwick, Jim Peterson, and the employees at BEC designed and created our adult day program space around the needs of the adults with disabilities that we serve," SKSF Executive Director Linda Ellegard said. "We could not ask for a better facility."
Partners in Philanthropy - Partners in Philanthropy is a forum to recognize and celebrate gifts, giving, philanthropy and donors. Four community partners present Partners in Philanthropy: Pikes Peak Funders Forum, Pikes Peak Community Foundation, Center for Nonprofit Excellence and Pikes Peak United Way.
Organizations We Support
Pikes Peak Area Crime Stoppers. Crime Stoppers is a local program that pays cash rewards for anonymous tips that lead to the arrest of suspects or wanted felons and the recovery of narcotics, stolen property and cash.
Doug Berwick is the past president of the Pikes Peak Area (Colorado Springs) Crime Stoppers. Berwick Electric is committed to keeping neighborhoods safe in Colorado Springs and surrounding areas, and we take an active part in the solution to these problems.
NOTICE: There is currently a $5,000 reward available for valuable information that leads to an arrest of the arsonist(s) responsible for the Waldo Canyon Fire in Colorado Springs. Click the STOP SIGN below for more information. Please call the number below if you have any information regarding this crime.
| | | |
| --- | --- | --- |
| If you have any information regarding Crimestoppers' wanted persons and/or unsolved crimes, please contact the Pikes Peak Region location at: (719) 634-STOP (7867). You can "friend" the local Crime Stoppers organization on Facebook to get the most recent updates sent straight to your news feed. | | |
---
James D. Berwick Scholarship. Kaylee Marquez received the 2014 James D. Berwick Scholarship for excellence in academics and her dedicated involvement with the YMCA. Kaylee is a 2014 graduate of Palmer High School, and she plans to major in criminal justice and minor in American Sign Language at UCCS in the fall.
2014 Recipient: Kaylee Marquez

Graduated: Palmer High School

Attending: University of Colorado Colorado Springs, and she plans to major in criminal justice with a minor in American Sign Language.
Congratulations on your bright future, Kaylee!
---
Defenders of Freedom Veterans Recognition Ride. The Defenders of Freedom Veterans Recognition Ride is dedicated to raising funds to assist our service men and women that have suffered severe injuries during their duties overseas. The ride also recognizes the major military bases in the Pikes Peak region - Schriever Air Force Base, Peterson Air Force Base, Fort Carson and the United States Air Force Academy.
This ride is "the longest law enforcement-escorted ride in Colorado". Participants embark on a 40-mile ride, and the proceeds from the 2014 event will benefit The Special Operations Warrior Foundation (SOFW). Registered riders receive pins, meet other riders & enjoy a great morning of riding.
Photos from past rides, including the 2013 ride
Defenders of Freedom Veterans Recognition Ride Info




---
YMCA of the Pikes Peak Region. Since 1878, the YMCA of the Pikes Peak Region has served the local community with programs and services focusing on youth development, healthy living and social responsibility.
After serving as a past president of the YMCA of the Pikes Peak Region, Doug Berwick continues to sit on the foundation's board. Doug has also been an active volunteer over the last 25 years.
---
Colorado Balloon Classic. Colorado BEC has been a sponsor of the Colorado Balloon Classic for many years. The Balloon Classic is Colorado's largest air show, with free admission for spectators. 2014's theme is "Making Life More Colorful." Look for our ad in the printed program!
---
Colorado Springs Therapeutic Riding Center. Colorado Springs Therapuetic Riding Center (CSTRC) is a special place. In addition to providing basic horseback riding lessons, CSTRC offers hippotherapy for children with special needs. Over the past few years, Berwick Electric Co. has donated time and resources to help CSTRC finish their indoor arena. Now therapeutic riding, as well as lessons, can continue on even in inclement weather.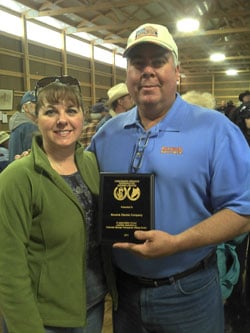 Thank you to the following Berwick Electric Co. Employees (current & former) who have donated their time to the completion of the Colorado Springs Therapeutic Riding Center:
Terry Schneider
James Rockhill
Matt Walker
Buddy Lowther
Mike Lucas
Miles Berwick
Blake Waterhouse
Right: Marie and Doug Berwick accept a plaque of appreciation for volunteered time by Berwick Electric Co.
Top of Page