In the electrical world, power quality is important. And, we'd be willing to bet that power quality is important to you as well. If you've ever had a computer power-down in the middle of an important task, or if you've ever sustained equipment damage due to power loss, you know the importance of power quality. In a nutshell, power quality is the strength and efficiency of the power that keeps your home or business running. Below are some common signs that your power quality may be slipping.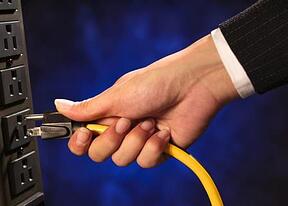 Have poor power quality? Enlist the help of a specialist.
1. Your electric bill seems too high. If your electric bill seems a bit outlandish for your power needs, consider a power quality analysis, which will determine whether or not you're using energy efficiently. "When there are many personal computers, adjustable speed drives, or other equipment that draws in current in short pulses, the power distribution can be negatively affected," Tim Prime, Berwick Electric's vice president of industrial projects explained. "Each customer's needs are different. My job is to find a creative, effective solution to fit any budget."
2. Computer crashes. If your computers frequently crash, or your computers freeze often, you may have some power quality troubles. Take note of how often this happens, and how many pieces of equipment you had running at that time; then, communicate the info to a power quality specialist.
3. Power supply failures, dropped telephone calls, and flickering lights. All of these items may be symptoms of poor power quality. If they happen frequently, the energy in your home or office is most likely not being distributed efficiently.
If any of these issues are common-place in your home or business, enlist a power quality specialist to install dedicated circuits and ensure proper grounding and power conditioning. Here at Berwick Electric Co., our in-depth understanding of electrical technical factors helps us to design creative power quality solutions for you. To request service, call (719) 632-7683 or click here.