Berwick Electric Co.'s staff is a very talented group of individuals. Not only are they good at what they do, but they are also passionate! Today we have the privilege of highlighting BEC Front Desk Administrator Kathleen Kisseberth. Kathleen is likely to be the first person that you speak with when contacting BEC. We invite you to follow along with our conversation below.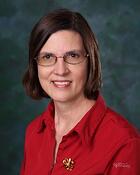 Kathleen Kisseberth
Berwick Electric Co. (BEC): How long have you worked with Berwick?
Kathleen Kisseberth (KK): I actually just reached my one-year anniversary on Friday, November 1.

BEC: Are you a Colorado native?
KK: No, I was born in Utah. However, I claim Maryland as home, because that's where I grew up.

BEC: What do you enjoy about what you do?
KK: I really enjoy answering the phones! But seriously, I like helping potential customers, suppliers, and repeat customers get the help that they need. Making a great, helpful first impression is so critical to maintaining the wonderful reputation that Berwick Electric Co. already enjoys.

BEC: What do you like to do outside of work?
KK: I love to spend time with my children, and I enjoy attending their marching band and orchestra events. I also like needle point, model rocketry, and cooking.

BEC: Is there anything else that you would like to share?
KK: While I may be one of Berwick's newer employees, I'm glad to be here. I genuinely enjoy trying to find ways to help anyone who calls for information. And, if I can't help, I'm happy to find somebody who can!
_______________________________________________________________________________
If you are looking for excellent commercial or residential electrical service, Berwick Electric Co. would love the opportunity to serve you. Please call us at 632.7683 or click here to request service.