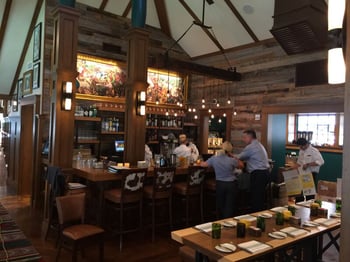 Colorado Spring's Seven Falls is a seven-tier waterfall located in the heart of Cheyenne Canyon. A favorite among hikers and nature lovers, the falls remained off limits for almost two years, since a massive flood in 2013 destroyed roads and closed attractions within the canyon.
Last year, the Broadmoor hotel and resort bought the popular old restaurant nesting just under the falls and embarked in a massive renovation of the place. When Seven Falls opened again in August 2015, after almost two years of silence, the brand new restaurant opened its doors as well.
Getting Things Running
Part of the massive renovation undertaking was to make sure the location had proper lighting to emphasize the beauty of the falls. In order to get this done, Broadmoor hired Berwick Electric, an electrical contractor that has been serving the Colorado Springs area since 1921.
Berwick – which had to deal with ill-timed cold weather, difficult terrain and even bear visits to the site while doing the renovation -- focused on the installation of specialty lighting and controls, as well as the wiring and piping needed to carry electricity through the 4,000-foot-long canyon. New lighting was not only provided to the inside of the restaurant, but also added to the parking lot, the curio shop, and new buildings like the restrooms and the food trailer.
What Makes the Restaurant So Special?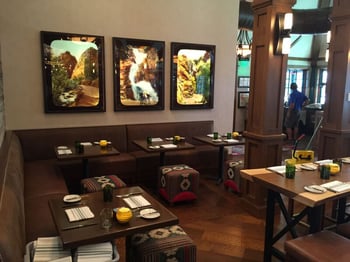 The renovated restaurant has been renamed 1858 in honor to the year that started the Gold Rush era in Colorado. To keep the old feeling intact, the renovation of the restaurant included the addition of chandeliers and lighting features that mimic mining lanterns, the construction of a 20-seating patio area, and a lot of touches to enhance the rustic wilderness feel of the building – including the use of reclaimed barn wood and hand-hewn stone. Old photographs depicting what the surrounding area looked like in the mid-19th century now hang on the walls.
The goal was always to make 1858 look like it's been part of the canyon for a century, and the new redesign accomplished that beautifully. To ensure an authentic feel, Berwick also worked on hidden light installations mounted underwater and under the stairs.
Preserving the Authentic Flavor of Times Gone By
When designing a new menu for the 1858 Restaurant, the new sous chef at 1858 focused on a high-end version of old frontier cuisine with touches of Creole and old European flavors.
Visitors to the restaurant can expect dishes featuring Rocky Mountain trout, bourbon honey lacquered pork loin (with a side of roasted apples), and many versions of grilled meats and vegetables – much of which will be cooked in the restaurant's 4-by-3-foot wood-burning grill.