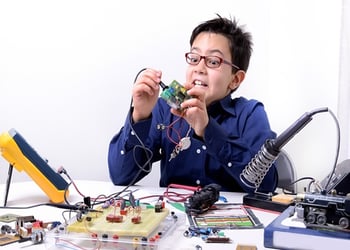 Enthusiasm in business is a great attribute. It's refreshing to come across a company with lots of energy and a "can do" spirit—until you realize (too late) that they really can't do it because they simply don't have the experience to tackle a complex job.
That's especially true when it comes to electrical installations in commercial buildings—where a lack of knowledge and experience can have significant implications for both performance and safety.
At Berwick Electric, we're still excited and enthusiastic about each new project we take on, but we also have a 90+-year track record of successful electrical installations that include everything from simple residential installations and repairs to extremely complex installations for medical facilities and data centers. We definitely have the experience you'll want for your complex project. And we have the commitment to safety that's essential for any installation you have in mind.
Just because we've been around since 1921, however, doesn't make us the right choice. We have the qualified personnel on staff, including: Master Electricians, Journeyman Electricians, Registered Apprentice Electricians, NICET (Fire Alarm), BiCSi (Tele Data), RCDD (Tele Data), AMP Certified Installer (Tele Data), and UL Certified Installer (Lightning Protection) who are ready to tackle the toughest projects.
But we know that technology never sleeps. That's why we are committed to the latest education, certification, and qualifications in the industry. We're proud of our history, but we're not willing to rest on our laurels.
If you're looking for enthusiasm that's paired with experience, a commitment to safety, and an ongoing pursuit of new services and skills that can ensure you'll get the kind of attention your complex electrical installation requires—give us a call.