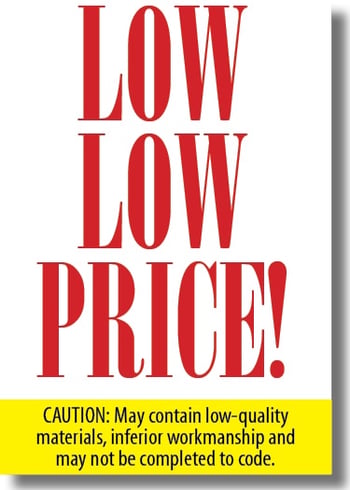 Everybody loves a bargain. Nobody wants to pay more than they have to for products or services—even if you're responsible for a huge commercial building or rebuilding project. Chances are you've got a tight budget to work with and if you can save a few dollars it takes a little of the pressure off.
There are times, however, when a "bargain" is really no bargain at all—especially when you're involved in something as complex as installing the electrical system in a commercial building.
We've all heard that you get what you pay for. Quality doesn't come cheap. And while pricing needs to be competitive, accepting a bid based on a low price alone can really come back to hurt you—especially when there is so much riding on the results.
Safe and consistent power is essential for businesses, whether it's your business that will be occupying the space you're furnishing or whether you're finishing the space for a tenant. If you have safety or quality issues with your electrical system, your business won't function well. Or if your tenant constantly has complaints about the system you had installed, he or she could easily move out. Either way, that costs you money. And chances are, it will cost you more than you saved on the low installation bid.
Of course, there's also the issue of meeting codes. Electrical codes are complex—and they change all the time. The most recent National Electrical Code Handbook contains 1,270 pages! You want to make sure you're dealing with a company that knows how to install to those codes. In addition to safety concerns, you can end up paying hefty fines for non-compliance—and paying again to have your system brought up to code.
Generally speaking, the two biggest factors affecting the price of your electrical installation are materials and labor. Material costs aren't going to vary that much from one supplier to another. That means differences in pricing (for the most part) are going to come down to the people who install for you. Contractors who simply "run wire" for you are going to be cheaper than skilled and trained workers who make sure that the job is done right and that it's up to code. Berwick Electric's apprentices are required to complete a five (5) year program consisting of 250 hours per year of schooling and 8,000 hours on-the-job-training administered by our Joint Apprenticeship Training Committee (JATC.) The JATC also offers Journeymen Wireman (JW) upgrade training.