For special needs individuals and their families, Colorado Springs Therapeutic Riding Center (CSTRC) is like a bright light. Located at Mark Reyner Stables in Colorado Springs, CSTRC opened in 2008 to provide therapeutic riding for individuals with special needs. These individuals may be living with physical, cognitive, emotional, behavioral and learning challenges related to various forms of trauma, developmental delays, autism, cerebral palsy, blindness, deafness, Down syndrome, muscular dystrophy, multiple sclerosis, batons disease and cancer.
"Mark Reyner stables has been a part of the local community since 1954, and my husband and I have owned it since 1975," CSTRC CEO Nancy Harrison said. "We've always worked with special needs individuals, but we wanted to do more. So we opened CSTRC. We started with three people, and now we work with around 100." BEC is proud to partner with CSTRC, and we invite you to learn more about this wonderful organization below.


Hippotherapy: A Healing Bond

CSTRC's primary goal is to provide equine-assisted therapy for people with special needs. "In hippotherapy, the horses are a powerful tool," Nancy explained. "We also move those in therapy toward the goal of being able to ride a horse independently."

Hippotherapy consists of three main steps. First, those in therapy work with an occupational therapist, a physical therapist, or a speech therapist, and then the therapist uses the horse to do the therapy. Next, the rider moves into therapeutic riding, taught by instructors who are certified in working with special needs individuals. The final goal is to get the rider to ride independently, while continuing to develop core strength, eye coordination, color recognition and memorization. After learning how to ride independently, the rider's next step is to take lessons with others who are able-bodied.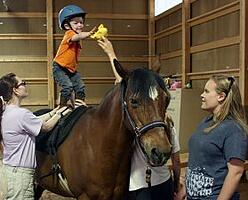 "The bond that both children and adults develop with the horses is incredible, because the horses don't judge them," Nancy said. "We have one horse that, prior to working with a child who has Down syndrome, was never very social. The horse really connected with this child, and would come trotting over to the gate in response to this child. It was really something! The horses can tell who is on their backs."

In addition to connecting with the horses, riders also gain physical benefits from hippotherapy. "Riding a horse is the closest thing to walking for those in wheel chairs," Nancy explained. "The motion of the horse walking creates a neural pathway in the brain that assists in learning to walk," she added. "The horse is more than just a buddy; it also helps those with special needs to develop physically in ways that they might not otherwise develop."

Community Minded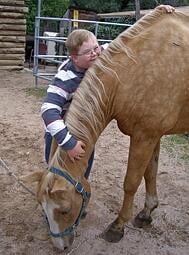 CSTRC has proven to be an important part of the local community. "We partner with the Down Syndrome Association, and they send us children who need therapy. We also work with the Colorado School for the Deaf and Blind, homeless groups, as well as other groups," Nancy said. "We also have teens from a local, alternative high school who volunteer to help clear horse pens every week. It's great for helping these teens to build self-esteem. We are pleased to be able to help the local community."

CSTRC largely relies on volunteers to help sustain its work in the local community. "We need three people per rider, especially when they first begin riding," Nancy explained. "We hold quarterly trainings, but that doesn't mean that those interested in volunteering have to wait. We'll pair them with a seasoned volunteer so that they can shadow and learn that way. Then, they can complete the next available major training. The volunteers genuinely enjoy working with the riders!"

To learn more about CSTRC, or how you can volunteer, click here.