Electricity is a staple of modern life. Beyond lighting rooms and powering devices, electricity is pretty interesting! Here are some fun and interesting facts about electricity.
1. Electricity travels at the speed of light -- more than 186,000 miles per second!

2. A spark of static electricity can measure up to 3,000 volts.

3. Lightning is a discharge of electricity in the atmosphere. Lightning bolts can travel at around 130,000 miles per hour and reach nearly 54,000 °F in temperature.

4. Electric eels can produce strong electric shocks of around 500 volts for both self-defense and hunting.

5. Have you ever wondered why birds sitting on a power line don't get electrocuted? If a bird sits on just one power line it is safe. However, if the bird touches another line with a wing or a foot, it creates a circuit, causing the electricity to flow through the bird's body. This results in electrocution.

6. Two positive charges repel each other, as do two negative charges. On the other hand, opposite charges attract each other.

7. Coal is the world's biggest source of energy for producing electricity. Coal is burned in furnaces that boil water. The steam from the boiling water then spins turbines that are attached to generators.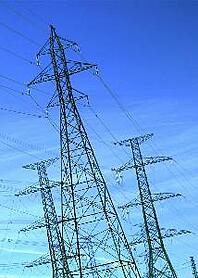 8. Did you know that electricity plays a role in the way your heart beats? Electricity causes muscle cells in the heart to contract. Electrocardiogram (ECG) machines, used by medical professionals, measure the electricity going through the heart. As the heart beats in a healthy person, the ECG machine displays a line moving across the screen with regular spikes.

9. Electric fields work in a similar way to gravity. Whereas gravity always attracts, electric fields can either attract or repulse.
10. Benjamin Franklin carried out extensive electricity research in the 18th century, inventing the lightning rod amongst his many discoveries. In the event of a lightning strike, the lighting rod conducts the strike through a grounded wire, protecting the building.
Sources:
http://generation.synergy.net.au/sites/default/files/electricity_fun_facts_0.pdf
http://www.sciencekids.co.nz/sciencefacts/electricity.html