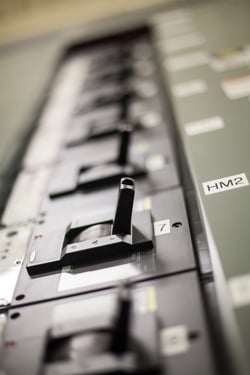 If your business has grown, or you have replaced old equipment with new, then you might already have outgrown your current commercial panel. Likewise, if your building was built in the 50's, 60's or 70's, there is a good chance that your commercial panel might be using outdated technology.
Both of these scenarios can be dangerous and frustrating, if you are not getting consistent, reliable power supply from your panel. Here are a few key factors you need to know about a commercial panel upgrade.
Signs Your Panel Needs an Upgrade
Just because your panel is old or you have expanded your business that does not automatically mean your panel needs an upgrade right away, but there are a few key warning signs that you should not ignore:
If the panel looks old, wiring looks worn, and you can no longer make out the labelling on the breakers, then there is a good chance your panel is a senior and due for retirement.
If there are any burns or scorches, or signs of corrosion inside the cabinet, then your panel may not be safe and definitely needs to be inspected and probably upgraded as soon as possible.
Any humming or fizzing sounds from the panel are also a big red flag.
Finally, if you notice excessive heat, that is a sure sign that all is not well.
In addition to physical signs on the panel, you might also have experienced flickering lights, fuses that blow, or more frequent than normal circuit breaker trips.
The Commercial Panel Upgrade Process
When you decide to upgrade your commercial panel, the first step is to contact a licensed commercial electric company. They will probably arrange to visit your building to assess your needs, and take a look at your current system.
When that is done, you will receive a quotation or estimate for the replacement or upgrade, and once you have accepted that, the work will begin. Usually, the replacement will be planned to ensure that there is minimal power interruption. If you can schedule it for a weekend, even better. Check with your contractor.
Planning Ahead Is Wise
While you are upgrading your commercial panel, it is a good idea to discuss any future changes to your power needs with the commercial electric company doing the installation. It is always wise to allow for a little expansion in your electricity plans later on, rather than replacing your panel with the bare minimum that will do the job. That way, when you do need a little extra power from your panel, it is already on hand, waiting for you.
Commercial panel upgrades should only ever be done by licensed and experienced electrical contractors. Not only is it unsafe to work on any type of power unless you know what you are doing, you may also have trouble with insurance or a future sale of your building.