The first taste of cooler temperatures during last week's rains served as a great reminder that winter is just around the corner. Although fall is an excellent time for things like pumpkin spice lattes, football games, and gorgeous scenery, it's also a great time to think about preparing your home for winter. This fall, we encourage you to think about how to maximize your home's energy efficiency for winter savings. Here are some tips for staying warm and toasty this winter without destroying your budget.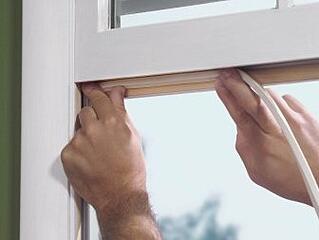 Sealing up leaks can help save on winter energy costs.
1. Seal up any leaks. One of the most obvious and easy ways to begin winterizing your home is to check windows and doors and for any leaks in the seals around them. You can easily fix leaks with weather strip material or caulk. This article from moneytalksnews.com also recommends sealing outside vents to dryers, baseboards, and the spaces around window air conditioning units.
2. Eliminate drafts. Even if you seal up leaks around doors and windows, drafts can still seep in underneath outside-facing doors. This article from The Daily Green reports that as much as five to 30 percent of energy use can be reduced by eliminating drafts. A simple way to block cold air is by using a door stopper. If you have a creative side, you can even make your own to look like a snake or another animal. Click here for a guide to make your own door stopper.
3. Install a programmable thermostat. Another simple way to help cut winter energy costs is by installing a programmable thermostat. Set the thermostat to a lower temperature at night and when your home is empty. According to this article, lowering the temperature by just one degree in your home can save three percent on your energy usage.
4. Prepare your hot water heater. When winterizing your home, your hot water heater might not be the first thing that comes to mind. However, it's important to include it in your winterization checklist. To save money on energy, lower the temperature on your water heater. This helpful resource also recommends draining off a bucket of hot water from the heater once every year. Doing so helps to remove sediment that can impair the heater's long-term use.
5. Add more insulation. One of the best places to install additional insulation is your attic. The recommended amount of installation is 12 to 15 inches. For a great "how-to" tutorial on installing attic insulation, watch this helpful video from This Old House. In addition to adding insulation your attic, you can even insulate pipes. Simply secure pipe foam around pipes using duct tape.
6. Switch out your air filter. When optimizing your home for winter energy savings, switching out your air filter is a must. Dirty, clogged air filters result in higher utility bills. A good schedule for swapping out your air filter is every three months, according to this article. Luckily, you can pick up a new air filter at nearly any hardware store.
We hope that you enjoy the fall season, and that you find these home winterization tips helpful! Do you have any other helpful, energy-saving tips? If so, we encourage you to share them in the comments box below.