Have you ever wondered what it would be like to work with electricity all day? Today we have the pleasure of taking a peek into the average day for BEC Electrician Michael Lucas, a.k.a. Lucas. From juggling a busy schedule to working safely with electricity, Lucas rarely has a dull moment!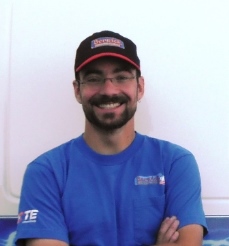 BEC Electrician Michael Lucas
Berwick Electric (BE): How long have you been an electrician?
Michael Lucas (ML): I've been an electrician for a total of eight years; four of those years were spent as an apprentice, and I've been a journeyman electrician for the last four years. Before I was an electrician, I was in theatre for 12 years. Very different industries! The apprenticeship is essentially your schooling as an electrician. The next designation after journeyman electrician is master electrician. This designation enables an electrician to do more design and build work, which is more focused on the technical aspect of the electrical process.

BE: What do you like about your job?
ML: There are a lot of things that I enjoy about my job! As a service driver, I enjoy the challenge that each different job provides. No matter what the electrical job is, I really enjoy meeting new people; there are a lot of fun people out there! Whether I'm hunting down a loose neutral, or installing an outlet or a switch, I generally enjoy what I do. I also like the fact that you really have to know what you're doing. Working with electricity is dangerous; if you're not careful, there's always the possibility of injuring yourself or others. Electricians have to be smart workers while watching out for other people. The electrical field is always growing, so there's always something new to learn.

BE: What is a typical morning like for you?
ML: Well, my mornings are pretty average. I usually arrive to the shop early to enjoy a cup of coffee, talk with the guys, and finish any paperwork from the previous day. After that, I'm usually out in the service van on my way to the day's jobs. It's not necessarily exciting, but that's generally how a typical morning goes. Once the day starts, the morning and the afternoon tend to blur together. I usually get in the zone, and the days fly by.

BE: What are some of the challenges of your job?
ML: Being an electrician is definitely a challenging job. Solving electrical problems can be like playing detective. For example, if a loose neutral is causing a problem, finding the loose neutral can be quite a challenge. A loose neutral is literally a neutral wire that has gone loose somewhere in the house and is wreaking havoc with the voltage in the rest of the house. These aren't easy to find, as they can be located in the switchbox, an outlet, a light fixture, in the attic, in the panel, at the meter, or even out by the city. As an electrician you really have to think logically in order to figure it out.

Balancing a busy schedule can also be interesting. Emergencies often pop up, and you have to find creative ways to deal with them. In one such case, a large, telecommunications facility lost power to an entire building when one transformer blew and took two other transformers with it. We had to figure out a way to get the building up and running in a safe, temporary manner until we could find a permanent solution.

BE: Do you have any funny stories from your service calls?
ML: One time a customer and her husband thought that their garbage disposal had quit working. They purchased a brand new garbage disposal and called me to wire it. In the process, I discovered that their current garbage disposal simply needed to be reset. Many people aren't aware that most garbage disposals have reset buttons on the bottom. When a garbage disposal is too full, the motor has trouble moving and it overheats (called thermal overload). Usually all you have to do is push a reset button!

Another time I solved an electrical problem for a customer in five minutes. Because she paid for an entire hour, I asked her if she needed help with anything else. She handed me a broom, and I swept the kitchen and dining room.

BE: What does continuing education look like for electricians?
ML: After the four-year apprenticeship (or 8,000 hours of on-the-job training), you can go on to become a master electrician. There are also a wide variety of specialty certifications that you can obtain, such as motor controls, photovoltaic solar panels, working with hot gear (while the electricity is active), and many more. You really have the opportunity to specialize in one niche, or you can become a "jack of all trades."
______________________________________________________________________________
If you need quality, reliable electrical service, contact Berwick Electric Co. at 719-632-7983. You can also click here to request service online.