Only in a mountainous state would electricians potentially need to repel down rocks in order to place lighting. Although traditional images of electrical work include installing light fixtures or wiring outlets, the actual work environment can be quite adventurous. Today we invite you to take a look into some of our recent projects, headed by BEC Project Manager Tony Cerciello. Read on!
Wiring State-of-the-Art Medical Facilities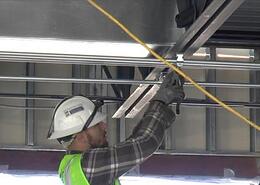 BEC electrician Justin Fauland installs a light fixture
at the El Paso-Teller County 911 Call Center.
For soldiers returning from overseas work, well-rounded mental health care is a priority. To help meet these needs, Evans Army Hospital has built a behavioral health unit. As the electrical subcontractor, BEC had the opportunity to install lighting and wiring. "We are in the final commissioning phases of this project, with the move-in set to take place in January," Tony explained. "A unique challenge we faced during this project was ensuring that all of the fixtures and devices met government requirements," he added. "It's vitally important that patients are in the safest environment possible."
In addition to finishing up the behavioral health unit at Evans Army Hospital, BEC is also slated to replace approximately 50 percent of the lamps and ballasts in the building. The goal is to swap out the current lighting with energy-efficient alternatives that will both save money and reduce the hospital's carbon footprint.
On the medical end of the spectrum, BEC is also completing a variety of work at St. Francis Medical Center. In addition to installing the electrical components of a physicians' lounge, BEC's electricians are also hard at work on a gastrointestinal suite and a perioperative suite. "What makes this job unique is working inside of an operating hospital," Tony said. "We take every precaution to help prevent the spread of disease, while also ensuring that life safety systems (such as the fire alarm system), will continue to function while electrical work is in progress."
Unique Work Environments and Fast Deadlines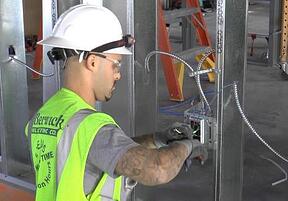 BEC Electrician Matt Vigil installs wiring at
the El Paso-Teller County 911 Call Center.
After all of the critical medical projects are complete, BEC electricians will potentially have the opportunity to practice their repelling skills with a new lighting project at Seven Falls. Although Seven Falls sustained significant damage during recent flooding, the natural site is planning to reopen after repairs are completed. Those who are familiar with the Colorado Springs area know that Seven Falls is a staple of local tourism. Gorgeous scenery and hiking opportunities draw locals and visitors alike. To enhance the natural beauty of the area, Seven Falls will install accent lighting to illuminate the rocks at night. "We are currently in the design-assist stage of this project with Norcostco Lighting out of Denver," Tony said. "Should we be awarded the project, we may have some very adventurous work days. Due to the extreme rock conditions in the area, some of the lighting spots can only be reached by repelling to them."
Additionally, work is 70 percent complete on new fixtures at the El Paso-Teller County 911 Call Center. "This project was accelerated," Tony explained. "In order to meet the quick turnaround time, BEC had to ensure quality team work with the general contractor and the other trades."
A wide variety projects definitely keep BEC's project managers and electricians on their toes. Working with a high standard of excellence and care is a top priority at BEC. To learn more about the services we offer, please click here.