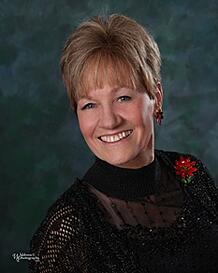 Ruth McGuire
For just over 10 years, the staff at Berwick Electric Co. (BEC) enjoyed the spirited laughter and can-do attitude that Accounting Assistant Ruth McGuire brought to the office. With Ruth's retirement, the BEC team will miss the years of experience and expertise that Ruth brought to the table.

"Ruth was always very upbeat and encouraging," Payroll Specialist Susie Kellogg said. "She was always very easy to talk with on both a personal and a professional level. She will be missed around here!"

Originally from northern Illinois, Ruth has been part of the BEC team since August 2003. "I really enjoyed the variety of my job -- it kept things interesting," Ruth explained. "I will miss interacting with all of the other staff members!"

Although she will miss working with BEC, Ruth is definitely looking forward to life after retirement. "I'm going to enjoy spending more time outside; I love anything I can put my hand to, such as gardening, landscaping changes, etc.," Ruth said. "My husband and I will also have more time to enjoy our cabin in the national forest, as well as more time to spend with our grandchildren."

Ruth was a huge asset to BEC, and she will be missed! We wish her all the best in retirement!