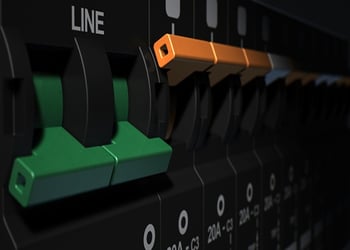 We've all had the experience before. You're busy doing something around the house and then—for no apparent reason—the power goes out in the room you're in. The rest of the house is OK, it's just the room you're in. So you trudge over to the circuit box and re-set the breaker that has tripped, and go about your business. But what if it keeps happening? Is it time to call an electrician?
Not necessarily. A circuit breaker "trips" when it detects a faulty condition and shuts down the power to prevent damage that could come from overheating (such as a fire). But does that mean you have a dangerous wiring problem in your home? It could be that you simply have too much plugged into a single circuit. If you're watching TV, ironing your clothes, and using a hairdryer on the same circuit at that same time—while the space heater is running—you're probably just using more power (at one time) than the circuit is designed to handle.
You probably don't need to call an electrician. You just need to unplug electrical devices you're not using, or not use them all at the same time.
There are, however, circumstances where you might want to give an electrician a call. A short circuit can also cause a breaker to trip. Unplug your devices and check the cables for damage or melting. Also check your outlets for discoloration or a burned smell. If you can't locate the source of the problem, it might be wise to have a professional check things out to make sure there are no serious problems.
If the tripping isn't caused by overloading the circuit or by a short circuit in a device or appliance, you could have a ground fault (when the "hot" wire comes into contact with the ground wire or touches some other surface that causes it to ground out). If that's your problem, you'll want an electrician to remedy that problem.
Sometimes tripping a circuit breaker just isn't a big deal. You don't need to call an electrician—just use a bit of common sense and don't plug in too many devices in a single room (or area of the house). If you can't resolve the problem that way, however, it's better to be safe than sorry. A simple house call can bring you a lot of peace of mind.