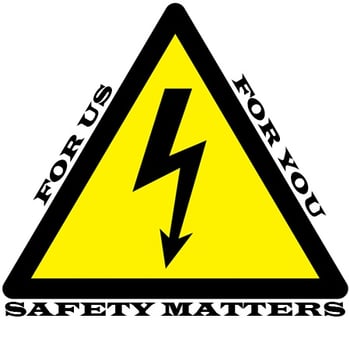 Many of us grew up hearing the admonition: "Safety first!" The message was clear: No matter what you might be doing, or how important the task, the number one priority was to take steps to be safe.
We all tend to take safety seriously on a personal level. Whether we're purchasing an automobile or a car seat for a child—we check out the safety ratings before making a purchase.
Businesses take safety seriously as well. There are websites devoted to the topic of business safety. There's even one site we discovered that boast more than 1,000 slogans to promote safety! You may have been on construction sites or in a manufacturing facility and seen signs that proudly proclaim: "256 Days Without An Accident!"
At Berwick Electric, we take safety very seriously as well. That's probably one reason we've gone more than eight years and 1.7 million man-hours without time lost due to an injury. That's a pretty amazing statistic, but what does that mean for you?
First of all, it means we're paying attention to details when we're performing an installation for you. The attention to safety details is an indication of our overall approach to the work we do. We plan carefully, we use the right materials and equipment for the job, and we employ workers who take their job seriously. We believe that means you get an excellent installation.
Our focus on safety extends to your safety as well. Electricity is a powerful tool when it's used properly. Your business depends on it. But improperly designed or installed systems can pose a serious threat—not only to your business, but also to the well being of your employees.
Berwick Electric has long been recognized for our commitment to safety. You can click here for a list of the awards we've won. But for us, it's not about winning awards—it's about doing the job right from the design, through the installation process, to the completed project. The right design, coupled with the right materials installed by highly trained individuals results in a system that functions safely and effectively. And that allows your business to be more effective and gives you peace of mind that your employees are working in a safe environment.