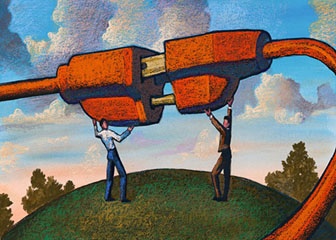 If you're planning to build a new commercial property—or looking to expand or upgrade an existing property, your electrical system may not be the first thing on your mind. But electrical systems are a key element of every new construction or renovation project. Businesses rely on reliable and robust electrical systems to get business done. That's why Berwick Electric Co. works closely with owners and general contractors to design and install high quality, cost effective electrical systems.
Here's a bit of what a quality electrical company brings to the table.
Design-Build / Design-Assist Expertise
By partnering with the owners, designers, engineers, and the construction team during the pre-construction phase, a professional electrical company contributes unique expertise in planning and cost estimating to develop "best-value" solutions to meet each customer's exact specifications. Design-build and design-assist are excellent ways to expedite the overall construction process and deliver projects that meet critical electrical standards within the owner's budget and schedule. To discover more about design-build and design-assist, click here.
Sustainability / Leadership in Energy and Environmental Design (LEED)
A great electrical contractor should offer extensive experience in sustainability projects, including government projects that receive SPiRiT and LEED certification. That should include an in-house LEED Accredited Professional to provide oversight for your sustainability projects.
Schedule Performance
A good electrical contractor—who is involved in planning from the beginning—should ensure the delivery of high quality service on schedule. You don't want building or renovation held up because the general contractor and the electrical contractor weren't on the same page. A good electrical contractor expedites through proper scoping, a well-trained and efficient staff, and critical path schedules that allow for flexibility and positive working relationships with the design and construction teams.
To ensure control of the quality of your overall project, your electrical contractor needs to clearly delineate the responsibilities, procedures, processes and resources with his part of the project, so that expectations are met—or exceeded. Much of that comes from hiring and retaining qualified individuals and making sure that they are properly trained and adhere to the highest standards.
First and foremost, we understand that the project isn't about us. "It's about working together as part of a team—as part of a bigger process—to deliver an overall solution that's best for the end customer."James D. Shirley, formerProject Director for Gerald H. Phipps, Inc. had this to say about working with us on Columbine Hall at CU Colorado Springs.
Berwick Electric's unique capabilities are in all aspects of electrical sub-contracting. They have strong pre-construction capabilities, excellent power quality people, strong field supervision and technically competent journeymen. Their quality control is second to none. They do it right and do it right the first time.
If you're looking to build or renovate a significant commercial property, make sure your electrical contractor understands what's involved in being part of a team and a process that will deliver the quality and value you expect.